Welcome to Regenerate-RISE
Our Response to the Coronavirus
Regenerate-RISE is closing all our Centres this week to protect our clients as much as possible from contracting the Coronavirus.  We will be closed for a minimum of 12 weeks to follow Government guidelines and as our clients are very vulnerable, we will be offering a Support Service to all our clients and to any older people that require assistance during this time within the borough of Wandsworth.  We are also providing a drop off point for items in Woking, Surrey.  Our weekly service in Nottingham will also be closing this Friday.   We will be providing the following across Wandsworth:
A weekly Supply Box with essential items Supply Box Leaflet

Telephone support

A shopping/prescription collection service

Sandwiches, cold lunches and desserts delivered to the door through both The Feel Good Bakery and through Regenerate-RISE

Activities for older people to do at home
If you would like to donate towards the purchase of food to help support older people please click on the following link:
RISE Corona Emergency Help - Just Giving
If you would like to contribute items from the Supply Box please bring them to the Platt Christian Centre, 22 Felsham Road, SW15 1DA between 9.30 and 5 pm Monday, Tuesday, Wednesday, Friday or Saturday between 2 and 4 pm.  If you would like to help pack boxes or distribute boxes please do go on the link below and complete the form and we will be in touch with you.
Application Form - Volunteer Supply Box 2020 email edition
We would appreciate your help very much indeed
Regenerate-RISE is fundraising to build a 10 bed Reablement Unit in the heart of Putney to alleviate the bed blocking crisis that currently exists across the UK in the NHS.  If you would like to donate towards this, please go to the Just Giving page on this website.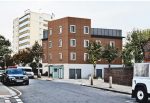 If you are a local Company and would like to sponsor the new Centre, please contact us at
sw15@regenerate-rise.co.uk
---
---
The new Rise Reablement Centre.
Click
on the panel below to play.