Welcome to Regenerate-RISE
Kings and Queens 2019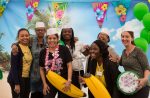 Kings and Queens 2019 was held on Saturday,7 September and was attended by 270 older people from the locality.  The theme for this year was a tropical island and it was a great success.  Thank you to all the volunteers from Hillsong and the locality for giving up your time to make the day very special.  80 volunteers helped throughout the day and the entertainment was provided by the Sunny Steel Band and Atlantis.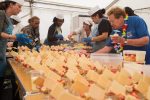 The Catering team did a brilliant job in preparing 300 lunches with the dessert being "white chocolate chip cookies with strawberries, banana and ice cream"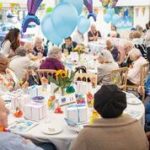 Guests enjoyed the music, the atmosphere, a game of Bingo and a raffle with the proceeds going towards the Jim McKinney Memorial Fund, which is a part of a new organisation called "Roehampton Focus" which will focus on providing support for local people and organisations.  The event was attended by the Mayor of Wandsworth, Cllr Jane Cooper and also by the late Rev Jim McKinney's wife, Cllr Sue McKinney.
"I think Kings and Queens was superb - the best ever!  I liked the costumes and garlands and particularly liked the music.  The Sunny Steel band were very good and Atlantis were excellent.  I liked the Beatles and Abba music.  The food was very good and plenty of it, but all too short.  I could have gone on all night - thank you for all the hard work made into a lovely day"
"To one and all - a great big thank you.  I must say since I have been a member of Regenerate-RISE I have enjoyed my time here over ten years from the time I first came.  From the time I entered Kings and Queens on Saturday, 9 September 2019 I think it was the best ever.  I do hope it will continue although I will not see many more.  God bless you all"  (Mary 96 years of age)
"This was my first time at Kings and Queens!  It was fantastic - "EVERYBODY" did treat me like a Queen.  Thank you for the lovely gift, the band and theme (Hawaiian) was out of this world.  Met such lovely people too.  The waitress - Hannan who served our table 21, was really friendly.  Big thanks to all the staff from the Platt.  Thank you for a wonderful do!
Regenerate-RISE is fundraising to build a 10 bed Reablement Unit in the heart of Putney to alleviate the bed blocking crisis that currently exists across the UK in the NHS.  If you would like to donate towards this, please go to the Just Giving page on this website.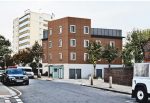 If you are a local Company and would like to sponsor the new Centre, please contact us at
sw15@regenerate-rise.co.uk
---
---
The new Rise Reablement Centre.
Click
on the panel below to play.