Outings
We have many outings, trips and visits from all four RISE centres across the UK. Days at the coast, visits to National Trust properties or picnics in the countryside. Please select the RISE centre for which you want to see upcoming outings and read about previous outings we have run.

We continue to provide transport for our clients in all three projects although RISE SW15 has currently suspended its outings due to the fact that we only have one driver currently.
We will be taking the members to Worthing in August on two days and they are looking forward to their trip to the coast.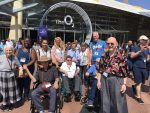 6 staff and volunteers accompanied 6 clients, 3 in wheelchairs to the 02 arena to the Hillsong Europe Conference.  The conference brought together 10,000 people mainly from Europe and a few other countries (70 in all) where we watched a dramatic version of the Easter story called King of Heaven, enjoyed the music and learnt a lot from some great speakers.  It was inspiring and every person that came with us said they would like to go again next year.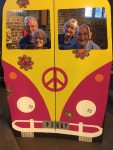 We went to the Dover House Singers concert celebrating the summer of 1969 and remembered the flower power, the sixties and the VW campers.  We listened to the choir performing the sounds of the sixties and they raised £1,224.10 towards our new Reablement Centre.  It was a great evening and we are looking forward now to the Christmas concert.
This year we are going by coach to Eastbourne in July, which has been funded with a grant from Esso and we are looking forward to a great day out.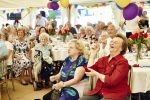 Kings and Queens will be held on 1 September 2018 in the Marquee on the Green in Danebury Avenue.  Free tickets are available from Regenerate-RISE, The Platt Centre, 22 Felsham Road, SW15 1DA.  We are looking forward to a great afternoon.