Rise SW11
Regenerate-RISE took over the management of St Michael's Day Centre in Cobham Close Battersea on 1 November 2017  and we are looking forward to developing the service over the months ahead.  We have put together a new programme for the clients which you can view here - Activities June 2018 SW11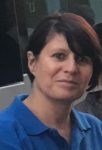 Lisa Bryan, Assistant Manager is currently overseeing RISE SW11 and Lisa will be overseeing the move to Putney on 25 June 2018.  Anthony, who is currently working in Putney will be welcoming the Battersea clients on four days a week.  The closed day for Battersea clients will be a Tuesday and we are opening on a Thursday in order that both Putney and Battersea clients can have some time on their own.
The lunches are £6, Membership is £1 a week and tea and coffee costs 50p.  If you would like to see the Menu please click on the following link Menu for June 2018
Every Friday we are holding a chair-based dance exercise class, which is great exercise and fun.  Our activities will continue as usual and we are looking forward to the months ahead.
St Michael's Day Centre goes under the name of RISE SW11 and we work in partnership with St Michael's C of E Church.  The Day Centre is a part of their premises and we look forward to returning to the newly refurbished building.