Rise SW11
Regenerate-RISE took over the management of St Michael's Day Centre in Cobham Close Battersea on 1 November 2017  and we are looking forward to developing the service over the months ahead.  We have put together a new programme for the clients which you can view here - Programme for February 2018.
Anthony van der Walt is the Centre Manager and the area that we are looking for new referrals from is SW11.  Currently we provide transport for an average of 20 clients a day and we provide a hot nutritious lunch with a Menu that varies every week.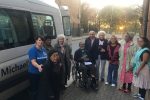 The lunches are £6, Membership is £1 a week and tea and coffee costs 50p.  If you would like to see the Menu please click on the following link Menu for February 2018.
During February we will be starting weekly outings and are beginning with a visit to Pembroke Lodge in Richmond Park.  The cost would be £4 and include the journey back to the client's home.
St Michael's Day Centre goes under the name of RISE Battersea and we work in partnership with St Michael's C of E Church.  The Day Centre is a part of their premises and we look forward to the year ahead.