Regenerate-RISE

*edit*
Procedure
Regenerate-RISE takes referrals from Social Services, GPs, Sheltered Housing Wardens, Occupational Therapists, Hospitals and Families and our preference is for one of our Referral Forms to be completed. One of our staff will then visit the person to see whether they are suitable for our service and whether indeed the person wishes to attend. The main criteria for someone to attend Regenerate-RISE is that they are over 60 years of age and are either isolated or at risk of isolation. The only people we cannot provide a service for are those with Dementia who may wander, as we do not have a locked door policy or those who are aggressive. We welcome people with disabilities, but do not provide lifting equipment for people who need to get out of their wheelchair.
We believe very much that the integration of able-bodied with disabled people is very important as it brings an empathy and support for one another. It increases a tolerance and understanding of disabilities as well as a compassionate and caring attitude between the peer group.
Referral documents
Please download the referral form from the list below relevant to your location and send it back to the appropriate Regenerate Rise project - addresses can be found on the form itself.
Right-click and 'Save As' to download the form or click the link to open the document and 'Save As' from the menu bar
*edit this*
Referrals 
We welcome new referrals and after the initial receipt of a Referral Form, our Pastoral Care Co-ordinator visits the person referred at home to see whether one of our Centres would be suitable.  We always take a little gift and literature that explains our service.  People referred need to be able to transfer from a wheelchair to a minibus seat, if they need our transport or we can organise Dial-a-Ride which is currently a free service although they do not accept older people with Dementia.
Quotes from Clients
"Although I was nervous about going out, I was really glad when Regenerate-RISE invited me to attend their Centre.  I have made so many new friends and I really enjoy the outings".
"I am so glad my Doctor referred me to you, I have never looked back"
"We love the activities, the outings and the lunches - it is so good not to have to cook for ourselves".
Regenerate-RISE has Comments Cards that clients can complete to let us know what they appreciate and what they would like to see change. "It has made a huge difference to my life" - it is so good to read comments like the above, but we also appreciate the comments that help us to improve the service or make significant changes.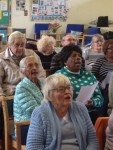 One recent Comments Card said "I had awhile to wait before I got any help, Regenerate-RISE were the first and I thank you all"
Thank you all so much for the excellent meals, the Supply Bags ad the care and attention which you are giving us all.  We are all so very grateful.  The meals are all so appreciated and they are all so cleverly put into the plastic boxes.  Really brilliant any thanks to all staff and volunteers"
"I would like to extend a huge thank you to the Chair of Trustees, the staff and volunteers for all their hard work supplying food bags, activity kits and running errands for individuals.  My appreciation to the supermarkets for donating food items and anyone else in the local community.  I feel it is a wonderful thing supporting people in need throughout this lock down in such a difficult time".
"Can I say how touched I am to be receiving these lovely bags each Saturday, plus the nice box of mixed chocolates on Wednesday.  My thanks to each and everyone of you".
Carers
"We want to thank you from the bottom of our hearts for the amazing support you are giving our Mum.  The relief at knowing you are all there and caring so much for her both practically and emotionally can't be expressed.  You are all second to none and more appreciated than we can possibly say.  Thank you"
"I would like to thank you for getting a new phone for D.  I could not come over as I was in touch wit a friend who was found to have Covid-19.  We are coming to the end of the 14th day of staying in and I am waiting to see if I have it, I had a test 5 days ago.  You getting the phone for D allows us to get in touch with her, so thank you all very much".
About us and this site
© Regenerate RISE 2006-2021. Registered Charity No 1118543. Company Limited by Guarantee No 5758108.
Registered Office: The Platt Christian Centre, 22 Felsham Road, SW15 1DA. Privacy | Cookies | Website: Strikingly Simple