Regenerate-RISE

*edit*
Reaching the ISolated Elderly
*edit*
Welcome to RISE+
Regenerate-RISE has started a new initiative called RISE+ which is supporting St George's Hospital and Queen Mary's Hospital with a "Home from Hospital" discharge plan.  We are currently visiting the Senior Health wards to get to know patients, provide activities and support on discharge.  We will provide a gift of a dressing gown, a food parcel on arrival home and an Activities kit along with daily visits to ensure the patient settles at home with everything they need to avoid readmission to hospital.  Referrals are from the wards and the form can be downloaded by clicking on the link below: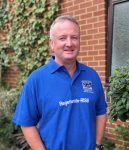 We have recruited our new RISE+ Outreach Co-ordinator, Bryce Schneider who has a background in project management and has worked throughout the world.  We are so glad to have increased our team and are looking forward to introducing him to all the staff and colleagues that we work alongside.
Welcome to the RISE+ team as an addition to Debbie, Toney and Jackie along with our volunteers, Robert, Ray and Mo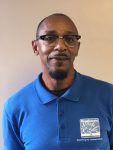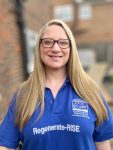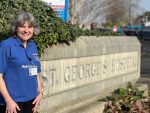 Mo Smith MBE, FRSA, Founder and Chair of Trustees
*edit*
Kings and Queens
We held Kings and Queens in the marquee on the Green in Danebury Avenue on 26 August with approximately 200 people attending.  Our theme was "The Oscars" and we gave everyone an Oscar as an appreciation of their contribution to society.  We also honoured three local people for their dedication and commitment to the people of Roehampton and beyond.  They were Pam Harris for her work with the Over 60s Cafe, Alan Housden for his commitment to the community over the years and Rosie Taylor-Davies for her dedication to providing scrubs to many hospitals throughout Covid as well as enrolling about 100 volunteers from across Roehampton.  Our guests were entertained by Grandpa's Spells, Robbie and Atlantis and along with a raffle and a game of Bingo, they enjoyed a delicious lunch.  A good time was had by all and we look forward to hopefully repeating Kings and Queens in 2024.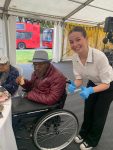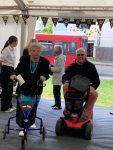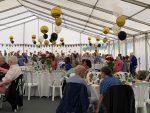 *edit*
The Platt Mission
On 9 November 1807, seven friends met to consult as to building a place of worship in Felsham Road and they raised amongst themselves the sum of £57 and formed an association to obtain further help.  The result was that on 9 August 1808 the building known as the Platt Chapel was opened.  The services were well attended and £100 was raised during the day towards the total cost of £900.  By 1827, the Platt Chapel was so popular that even the addition of a gallery was insufficient and often the vestry as well as the Chapel was crowded on a Sunday evening.  The Chapel was again enlarged in the year 1830.  From 1872 the Platt Chapel was closed for awhile and a site was procured in Oxford Road at a cost of £750 where an iron chapel was erected to accommodate 500 people.  However by 1897 the Platt Chapel was open again and was transferred by a Trust Deed to the City Mission and it remained with them for a long time. more...
*edit*
Mission Statement
To Transform the lives of isolated older people through a programme of care and support which respects, values and encourages independence in later life.
Vision Statement
RISE-ing to the challenge of Reaching the ISolated Elderly across the UK